the professional press talks about us, we are happy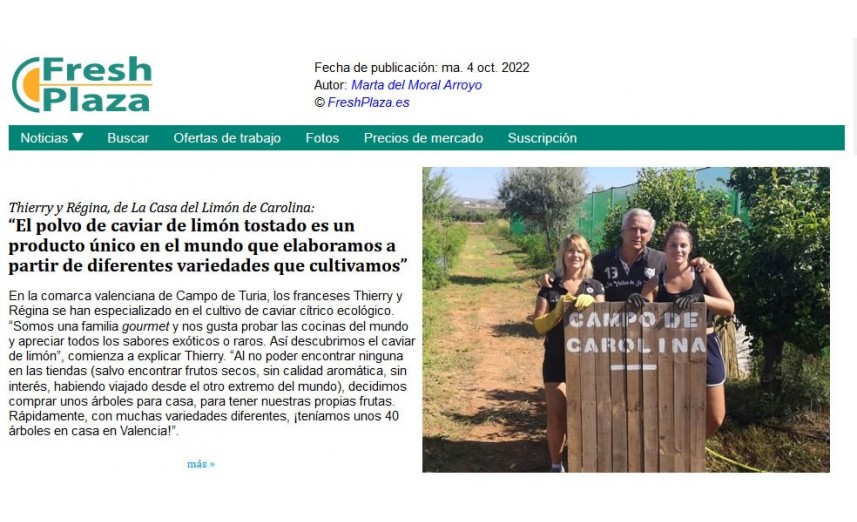 Thierry and Régina, from La Casa del Limón de Carolina:

"The roasted caviar lemon powder is a unique product in the world that we make from different varieties that we grow"
The orchard as a natural ecosystem
"We have ecological certification, for the land and for the company. For us, it was a priority, because it makes sense in our vision of agriculture. But we made our work even more complex,
Thierry y Régina, de La Casa del Limón de Carolina:
"El polvo de caviar de limón tostado es un producto único en el mundo que elaboramos a partir de diferentes variedades que cultivamos"
En la comarca valenciana de Campo de Turia, los franceses Thierry y Régina se han especializado en el cultivo de caviar cítrico ecológico. "Somos una familia gourmet y nos gusta probar las cocinas del mundo y apreciar todos los sabores exóticos o raros. Así descubrimos el caviar de limón", comienza a explicar Thierry. "Al no poder encontrar ninguna en las tiendas (salvo encontrar frutos secos, sin calidad aromática, sin interés, habiendo viajado desde el otro extremo del mundo), decidimos comprar unos árboles para casa, para tener nuestras propias frutas. Rápidamente, con muchas variedades diferentes, ¡teníamos unos 40 árboles en casa en Valencia!".


"Nuestros amigos nos pedían ...


Comments
No comment at this time!