Our Roasted Lemon Caviar Powder
La Casa Del Limon De Carolina, producer and manufacturer of organic dry processed products
It took a lot of work to find the right mix of our varieties of caviar lemons, to make this unique and fantastic powder!

Long months before finding the right and necessary proportion to make a balanced and extraordinary product, really bringing different taste and aromatic qualities.

The aroma is so powerful, strong, flowery, aroma of lime, citrus flower and topsoil, that the chefs who smelled our powder said "Whooooowww!".

Our Roasted Lemon Caviar Powder, 100% Organic Fruit, Mixture of several varieties of Lemon Caviar, is a high-end product, like Truffle powder or Saffron powder!

It will be used to flavor your cooking and pastries, but also your cocktails, or your teas and infusions, and your finest gourmet dishes.

This very aromatic Our Organic Caviar Lemons powder will allow you to sublimate your cocktails, your dishes, your desserts. 1/2 teaspoon (1g) is enough to flavor a cocktail, a fish sauce, a broth, a salad dressing, a vinaigrette, a dessert cream, a chocolate dessert, a cake, an infusion or a tea! Enjoy!

It is packaged in a sealed bag, with an excellent quality ZIP closure, allowing it to have a DDM (date of minimum durability) of 18 months.

Our Roasted Lemon Caviar Powder is certified ORGANIC (CV7882E Operator certified by ES-ECO-020-CV).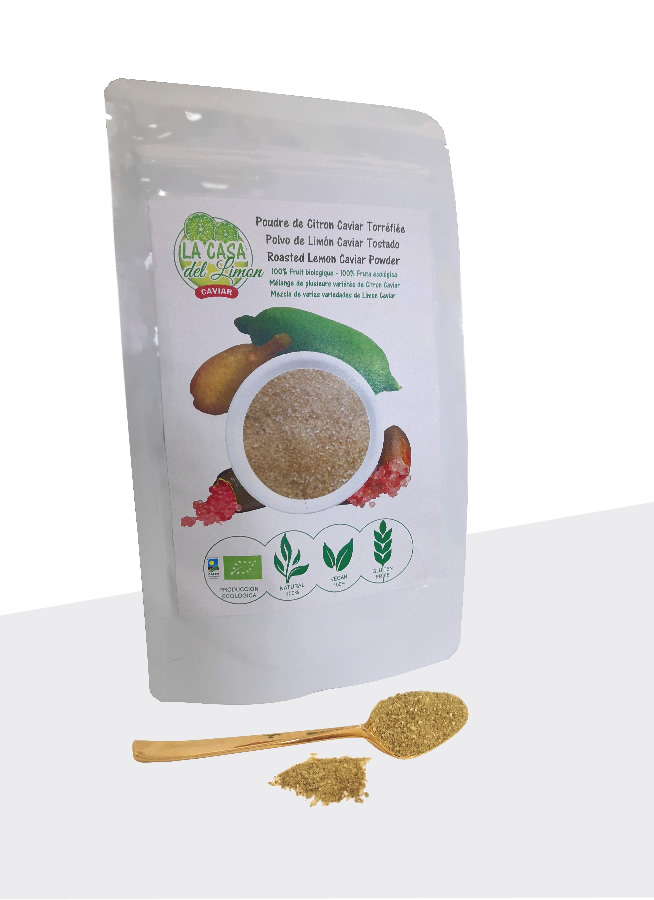 Real Natural Lemon Caviar Beads
La Casa Del Limon De Carolina, producer and manufacturer of its ORGANIC processed FRUIT
We wanted to enjoy our fruit and their "bewitching" Lemon Caviar Pearls for longer than the season.
So we decided to develop a way to put them in mini jars, and it's not as easy as that.

And finally, we found a way to preserve their aroma and integrity.

We offer you the possibility of consuming our magnificent Lemon Caviar pearls all year round!

They are ready to use.

All you have to do is open the jar (if possible, chill it for 15 minutes beforehand), and sprinkle your food, your dessert, your fish with the Lemon Caviar pearls of your choice.

We pack 2 kinds of colours: Lemon Caviar Pearls ROSA colour and Lemon Caviar Pearls BEIGE colour.

Packaged in 24g jars, with a best before date of 18 months.

The information box has the EAN13 of course, but also all the obligatory mentions and advice of use, in French and Spanish. On the front, it has a window so that the customer can see the pearls.

Our Lemon Caviar Pearls are certified organic (Operator CV7882E certified by ES-ECO-020-CV).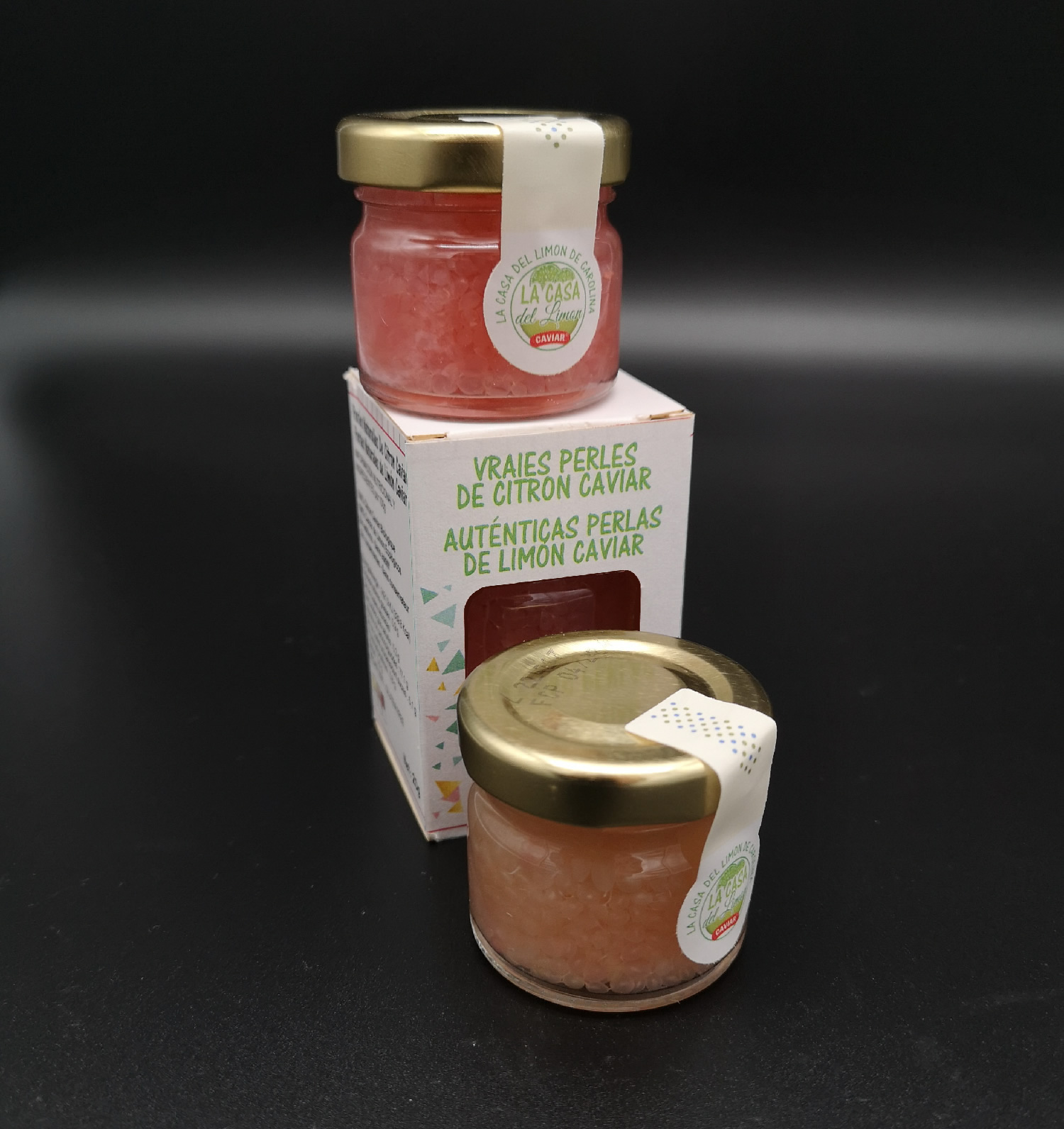 Our Organic different Caviar Lemons Organic , Enjoy!
A selection of our Lemon Caviar
Treat yourself !
We are in Valencia
The Citrus Country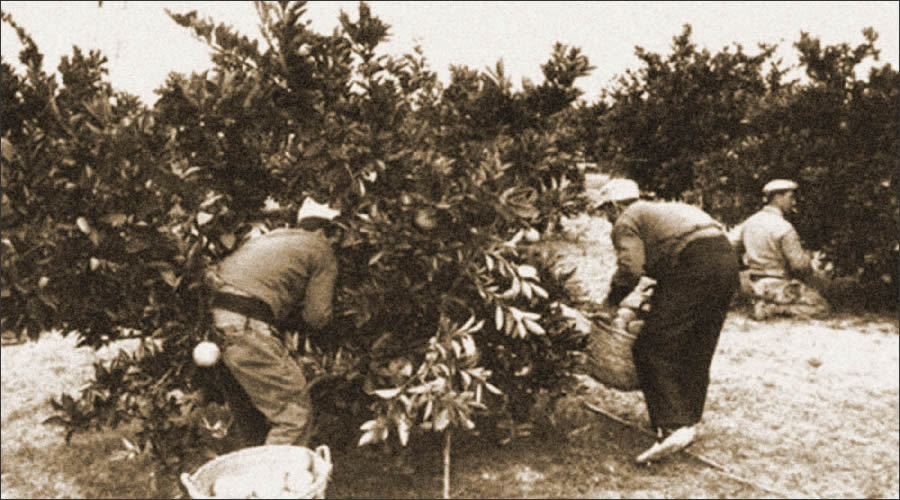 Our orchard is located in the plain of Valencia, Spain.

Valencia has a very special climate that is beneficial to our tree varieties.

And Valencia, because of its natural history with citrus (for several centuries), has all the qualities and specificities necessary for our farm to grow vigorously and formally.
History of Our Farms
La Casa Del Limon De Carolina, production Ecological and sale of Lemon Caviar, Yuzu, Combava and Kumquat
LA CASA DEL LIMON CAVIAR® it's our adventure, joined by Jean Vincent & Usi, as well as Caroline & Jérôme. We are producers of lemons caviar and citrus exception (and wholesaler in lemon caviar because we are short circuit).

Both adept at salty and sweet, we are always looking for new flavors, new recipes knowing that we are particularly fond of citrus (lemon caviar, yuzu, combawa and kumquat). And that's how we discovered the lemon caviar ... which we fell "crazy" by all the possibilities it brings!

We tried to buy lemon caviar in France or Spain, and it took consistency to sometimes find high prices and often a little dry, following the long trip from the southern hemisphere, Australia (main exporter) or California.

And for us, it was the click: why could not we produce it ourselves?

After all, we love the land, the good products and all have a very strong farm culture in our families who were farmers. Living in Valencia (Spain), the cradle of citrus cultivation, we have studied everything: the land, the very specific climate of Valencia, all that our trees could need to feel good and therefore produce fruits of quality. And everything is at the rendezvous, the hot and humid climate of the region and the quality of the land.

But, the Caviar Lemon tree, It was thus necessary to study this tree well before undertaking its culture in full field and to prepare as well as possible its place of life and implantation.

Since 2017, we have about twenty trees (with different varieties) in "greenhouse laboratory" at home, to study the adaptation of trees, their needs, the periods of flowering and harvest, their sensitivity to pests and harmful ... all you need to know, because it must be said that this tree, this thorny bush is a savage in every sense of the word! The documentation and all the data concerning it are rare, not very descriptive.

This tree, or rather this thorny bush, even if it is called "citrus", has nothing to do with the usual lemon tree that we know well: its differential characteristics come from its origin: the wet undergrowth of the Australian forests of the Queensland (original specificity, breeding, climate, fruiting).
To synthesize:
It's a lemon tree that has nothing to do with a classic lemon tree
His arboriculture is very different from the classic lemon tree
Its need as a land, adapted to its origin, is also very different from that of the well-known lemon tree.
Its breeding is fragile because specific in terms of fruiting, and its size for example.

In order to diversify our offer, we have decided to add caviar lemons, yuzu, kaffir lime and a new variety of extraordinary kumquat, which we will call kumquat caramelo.

The lemon caviar is a fantastic fruit, exceptional, but very fragile that requires extreme care to reveal its potential. It is used both in cooking and baking for the multitude of taste and visual possibilities it brings. The greatest chefs use it with unique variations and amazing flavors.

This fruit, according to the variety ( purple lemon caviar ), has incredible and diversified aromas, and also a great ability to DESIGN on a dish and a dessert.

Our goal is to be able to benefit from this exceptional product, by cultivating quality fruits with a biological culture that respects the ecosystem and especially to participate in our level to reduce the carbon footprint generated by these imports.

So here are the different challenges we had to overcome, to launch our orchard!

We are producers of lemons caviar and citrus exception (and wholesalers because we are short circuit).

Sale of lemon caviar (microcitrus australasica) for professionals and individuals, sale of yuzu, sale of Kumquat, sale of combava.

On our Blog & Vlog, you will find all the tips on different fruits, different varieties of lemons caviar, including purple lemon caviar and even very soon, full of easy cooking recipes with these different fruits.
Finally, after a few years of trying, we decided to stop yuzu, kumquat and kaffir lime. We are now dedicated to lemon caviar and its many varieties.
.
Our brand La Casa Del Limon Caviar®
Our brand, La Casa Del Limon Caviar, is our registered European Trademark (®)
Why have we registered Our Brand?

Our Brand La Casa Del Limon Caviar® refers to our quality fruit, and in the premium fruit market, it's important to maintain quality.

Our fruits are treated in an ecological, organic way, which means that there are never any chemical pesticides, nor ever chemical fertilizers.

We see our profession as a farmer as essential to human health.
So YES, it's difficult, but we cannot think otherwise! For us it is essential.

But even more: we are committed to an even more demanding path in ecological mode: the mode of "high environmental value".

Why ? Because Biodiversity in agricultural systems has decreased alarmingly around the world. But some farming systems have maintained significant and visible biodiversity over time, through continuity in the use of sustainable farming practices.

Agriculture of high environmental value means farming:
- Which integrates and develops biodiversity in the management of the operation,
- Which limits inputs as much as possible (phyto, fertilizers, energy, external food, etc.). For an agriculture that is both autonomous and not very degrading for the soil, water and air.

Agriculture of High Environmental Value is based on the principles of agroecology:
- They set up production systems that are based on the mechanisms offered by ecosystems (soil fertility, crop protection fauna, plant cover promoting soil life, permanent grasslands, etc.).
- They ensure agricultural production while preserving the environment (reduction of greenhouse gas emissions, limitation of the use of inputs, preservation of water resources).
- They use natural and renewable elements (plant cover or "green manure", agroforestry).
- They promote diversity in production systems and restore a diversified landscape (diversification of crops, rotations, establishment of agro-ecological infrastructures, ponds and wetlands, etc.).

The way is difficult, but it also conditions the taste and aromatic value of our fruits! Their longevity, their period of freshness is 2 to 3 times that of fruits produced in conventional mode.

This is why our Brand is important: know how to claim it from your reseller, and you know why!
After 3 years of organic certification, this year 2023, we have decided not to renew our ecological certification by the CAECV, because it is not profitable: neither in economic mode, nor in pure agricultural mode. Indeed, naturally, we have included the rules of ORGANIC ECO agriculture in our practices from the start. Certification does not bring us anything more, except significant administrative burdens. So we decided to decline certification, without changing anything in our practices which were already more ORGANIC than ORGANIC.
Follow us on Instagram